VoCore screen – review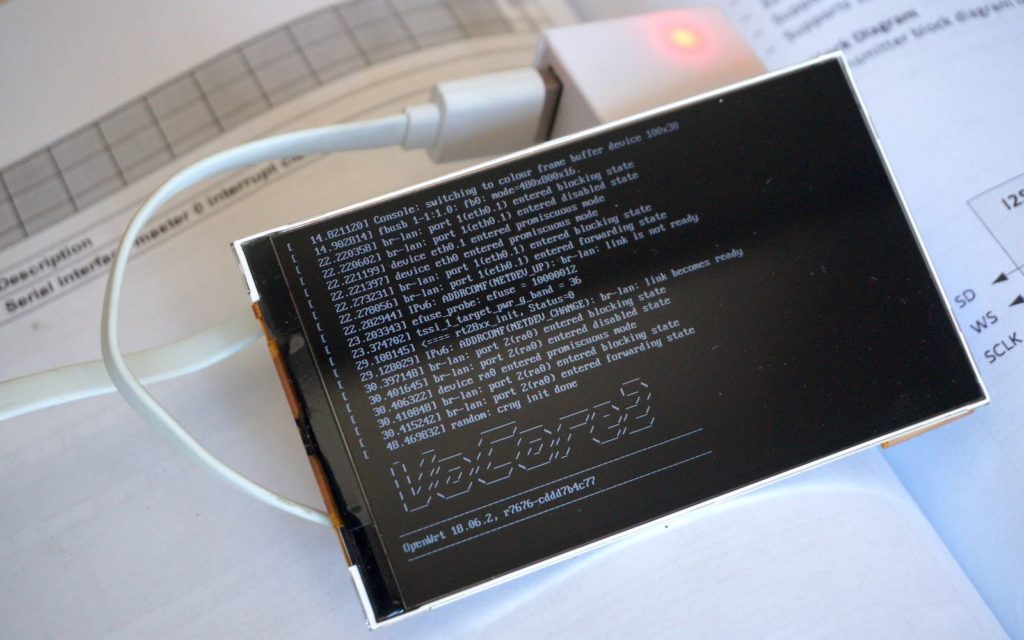 With the latest update, simracing software Simhub introduced the reduction for the VoCore display. This is reason enough to take a closer look at this display.
Ordering and shipping
Currently, the display can be obtained directly from the manufacturer (link: https://vocore.io/).
The price is $35.99, including a mailing, which is indicated from China with approx. 2-9 weeks delivery time. From my own experience I would realistically expect 3-6 weeks here, here the shipping took about a month. Optionally, you can book an express shipment for $16.55, which takes about 5-10 days to deliver. Additional customs duties may apply here, beware!

Scope of delivery
The display is simply and simply packaged and arrives at the customer's office without accessories, but is sufficiently protected in an air cushion film and provided with a screen protector.
Compatibility and Drivers
Basically, the display is compatible with Windows as well as with Linux and MAC OC. However, it becomes interesting for the topic of simracing by the integration into the software Simhub. The special feature of the display here is that it can only be operated via USB, so a free graphics card connection is not required.
The drivers are available on the manufacturer's website or here: https://www.simhubdash.com/devices-driver-installation/
Technical data
| | |
| --- | --- |
| Size | 97mm x 58mm x 3.8mm |
| Display size | 86mm x 53mm, 4 inch |
| Interface | USB 2.0 480MHz |
| to dye | 24bit, 16bit |
| Resolution | 480 x 800 |
| Fps | 24(24bit color), 30(16bit color) |
| Touchpad | SUPPORT, two points |
| Driver | framebuffer, libusb |
| Power supply | microUSB 5.0V |
| Current verbs | -0.5W |
First impression
The display, which is supplied without a housing, makes a solid impression, while the ribbon cable does not give a safe feeling. If you want to move the display more often or connect to different devices, you should consider a solution in the form of a housing. After all, the connection board can be placed very flexibly for its own housing variants.
3d
In the meantime, there are already various designs of housings for the VoCore screen on Thingiverse. Further designs and projects can be found, for example, on the Discord server of Simhub or on Youtube.
The display in action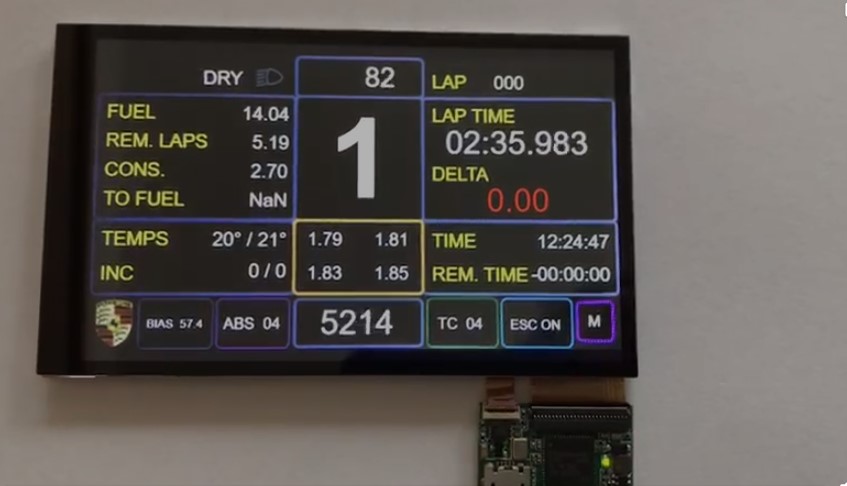 The display offers a very nice and pleasant image for the low price. The maximum 24 frames per second is not a limitation for most dashboards and hardly noticeable after a short time. However, if you want to use a switching flash over the entire display, you can see the slow image structure partly clearly.
Conclusion
Overall, the display is a clear recommendation, especially for the very low price. Connection via USB and the good image make the maximum 24 frames per second quickly forgotten. In any case, you should think about a suitable housing or a holder, here a 3D printer is clearly advantageous. Since the display with about 100mA is extremely sufficient, it can be used very flexibly especially for projects such as own steering wheels.
Pros
Value
Connection only via USB
Quality
Low power demand
Cons
24 frames per second
No housing included
Shipping from China
Update:
Meanwhile, the screen is available in three sizes: 4.0, 4.3 and 5.0 inches.
SIZE
97mm x 58mm x 3.8mm
104.3mm x 61.3mm x 3.6mm
119.3mm x 68.7mm x 3.6mm
DISPLAY SIZE
86mm x 53mm
93.6mm x 56.2mm
109.6mm x 61.6mm
INTERFACE
USB 2.0 480MHz
USB 2.0 480MHz
USB 2.0 480MHz
COLORS
24bit, 16bit
24bit, 16bit
24bit, 16bit
RESOLUTION
480 x 800
480 x 800
480 x 854
FRAME PER SECOND
24(24bit), 30(16bit)
24(24bit), 30(16bit)
24(24bit), 30(16bit)
TOUCH PAD
Capacitive, two points
Capacitive, two points
Capacitive, two points
DRIVER
framebuffer, libusb
framebuffer, libusb
framebuffer, libusb
POWER SUPPLY
microUSB 5.0V
microUSB 5.0V
microUSB 5.0V
POWER CONSUMPTION
~0.5W
~0.6W
~0.65W
BACKLIGHT
250LM
~300LM
300LM
The sceens can be purchased directly from VoCore as well as from the German retailer 3D-Simgear. The latter offers shipping from Germany without additional customs for a moderate surcharge. This is especially worthwhile when buying small quantities:
VoCore 4.0 Zoll: 59.00€
VoCore 4.3 Zoll: 79,00€
VoCore 5.0 Zoll: 99,90€