Turn Racing R8 LMS steering wheel – Review
Ordering and shipping
The steering wheel tested here was privately provided by a simracer friend for this test (thanks to Michael G.) and, after more than 500 hours of use with gloves, naturally shows signs of use correspondingly.
The steering wheel was purchased directly through Turn Racing (link: https://www.turnracing.com/) and was priced at around 1000€ including shipping. Currently the steering wheel is no longer on sale, but there are various steering wheels and DIY kits to choose from.
Scope of Delivery
The steering wheel is delivered in a noble packaging and is safe from damage due to the custom-fit padding. The LIeferumfang include:
The steering wheel
A spiral cable
Screws for mounting
Compatibility and drivers
The steering wheel is intended for use on a PC only, PlayStation and Xbox are not supported
The wheel by Turn Racing has an high quality USB joystick interface board from Leo Bodnar (BU0836A 12-bit joystick controller), which allows plug&play operation without installing a driver.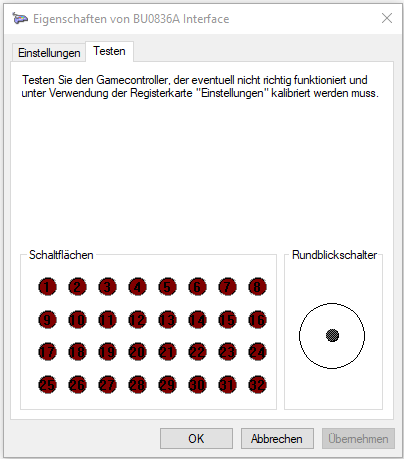 Functional scope (The steering wheel in detail)
The steering wheel has several function buttons:
3 rotary encoders, which provide very rich feedback and are comparatively large. This makes them easy to use even when wearing gloves.
8 buttons, one of which has an extra border as a trigger guard. These are a bit disappointing in comparison to the rotary controls and have a rather undefined pressure point.
Two 7-way switches: Unusual here is the use of two such buttons at once, which allow rotation to the left and right, as well as operation to the right, left, down and up in addition to the keystroke. This allows for a versatile assignment and thus offers a real added value.
Size and weight
At just under 1.5 kilograms, the approximately 30-centimeter-wide steering wheel is certainly not lightweight, but this is mainly due to the absolutely robust design. The massive front panel, the housing, which is also made of metal, and the high-quality shifters from Ascher Racing make no compromises, no one has to be afraid of flex here for sure.
Shift paddles
As noted, the paddle shifters are manufactured by Ascher Racing. As it is now common in this price range, they are of course equipped with magnets which makes for a very rich shift feel. The shifters are made entirely of metal and are rounded off by paddles made of carbon.
Handles
The handles of the steering wheel are made of Alcantara and offer a good grip. however, as you can see from the pictures, intensive use does not pass them without marks. Who can not live with it, should look for steering wheels with rubberized handles, which are increasingly appearing on the simracing market
Quickrelease and USB cable
Turn Racing's steering wheel forgoes complex construction and simply screws onto an existing Quickrelease with the included long screws (for example, using Fanatec's Podium Hub) through the front plate.
Afterwards, only the USB cable has to be connected to the PC and the first laps can be turned on the race track. The very massive USB cable is extremely high quality and should withstand heavier loads without any problems.
Conclusion
For those looking for a massive, indestructible steering wheel with high-quality components (Leo Bodnar, Ascher Racing), the Turn Racing R8 LMS is a great choice. The steering wheel does not afford itself any major weaknesses except for the pressure feeling of the buttons, but is built absolutely uncompromising with its massive construction and the materials used.
Pros
Very high quality materials
Installed encoders
Two 7-way switches
Paddle shifter by Ascher Racing
Circuit board by Leo Bodnar
Cons
Feeling of the Buttons
Price