Ordering and shipping
La Prima Button Box: 279.99€
Forte Button Box: 379.99€
La Prima Button Box + non premium Wheel Rim: 399.99€
Forte Button Box + non premium Wheel Rim: 499.99€
Closed-D Leather: 119.99€
Round Leather: 119.99€
Round Comfort+: 159.99€
Open-D Leather: 119.99€
Open-D Suede: 119.99€
5% Asetek Gutscheincode / Coupon code: simracingpc
The product tested here was provided by the manufacturer. No influence was exerted on this review at any time.
Scope of delivery
Button box
Shifter + matching Allen key for mounting
Stickers + tweezers for positioning the stickers


Specs
Exquisite, radical, and minimalistic Danish industrial design
Made in Denmark
32 Programmable aRGB LEDs
15 aRGB RevLEDs
6 aRGB FlagLEDs
8 Button aRGB LEDs
3 aRGB LEDs for backlit rotary switches
8 Push buttons, 2 two-way Toggle switches, 2 seven-way Kinky switches
3 twelve position Rotary encoders, 4 Thumb encoders
2 Contactless Magnetic shifter Paddles
Upgrade path: Add optional paddles, 2 clutches and 2 magnetic input paddles
Injection molded Carbon fiber reinforced composite chassis with a forged carbon structure
2 mm woven carbon fiber front plate
Possibility to exchange steering wheel rims
Easy-to-use, no-play quick-release. Ensuring stable data and power transmission without the use of cables, batteries, or wireless signals.
Full button, switch, encoder, and paddle custom mapping
Customizable Rev lights
Pitlane control and Pit limiter
Night mode
Auto connection detection
Clutch configuration
330 mm with rim
195 mm x 154 mm x
Compatibility / Upgrades
Asetek Simsports® Invicta Direct ™ Drive Wheelbase
Asetek Simsports® Forte® Direct Drive Wheelbase
Asetek SimSports® La Prima™ Direct Drive Wheelbase
Asetek Magnetic Input Paddles: 44.99€
Asetek Clutch Paddles 44.99€
Steering wheel rims
Before the individual functions of the Button Box can be discussed, a steering wheel rim is of course required to turn the Button Box into a complete steering wheel. There is a choice of rims in various shapes and materials, which are attached to the sides of the back at three points with two screws each. They are equipped with a solid metal frame with corresponding holes. After assembly, the supplied shifters can then be attached with one screw each. If you want to replace the steering wheel rim with another one, the shifters must first be removed. The process can be completed in a total of about five minutes, but with a little practice the pit stop can certainly be completed in less time.
What at first glance looks like a very unusual solution and makes the Button Box incompatible with all known steering wheel rims on the market also has very significant advantages. The concept saves weight in the truest sense of the word compared to conventional steering wheels and allows 33 centimetre rims with a weight of approx. 750 – 800g. But what is even more important for us Simracers is that it frees up a lot of space in the button box area, which would otherwise be covered by the steering wheel spokes. This means that more function buttons can be fitted without having to compromise. So the concept really pays off here. The new approach also has no reason to hide when it comes to stability. The combination of the steering wheel rim and button box achieves a level of stability that is otherwise only found in single-piece wheels.
Features
Anyone who already owns a Formula Wheel from Asetek or is familiar with its layout will hardly be surprised here. Asetelk relies on an almost identical button layout and integrates the following functions:
8 push buttons – These have a clearly defined actuation point and are comfortable to use. Overall, the plastic buttons are in the mid-range of all the models we tested.
2 two-way toggle switches – The two toggle switches on the top of the steering wheel are rather unusual, but a welcome input option for the ignition or starter of a vehicle, for example.
2 seven-way Kinky switches– Otherwise known as Funky switches, the two Kinky switches are certainly the most important input options of the Button Box. Seven functions each (left, right, up, down, turn left, turn right, click) are ideal for in-game menus, among other things. Asetek could have avoided the necessity of having to change grip for operation by positioning the buttons further out.
3 twelve position rotary encoders – The centre-mounted rotaries can be used in either twelve-position or pulse mode and are very convenient to operate due to their size.
4 Thumb encoders – In addition, the Forte Button Box has two thumb encoders on each side, which are made of plastic but are just as easy to operate. They can be reached directly without having to reach round and are therefore ideal for frequent changes to TC or brake balance, for example.
Software
Asetek users are also presented with a familiar scene here. The button box can be configured quickly and easily in the software (RaceHub). There are a total of three pages for the settings:
Button Configuration – The backlighting of the individual buttons and their behaviour (colour change) when pressed can be configured here. You can currently choose between 14 colours whereby the brightness is fully adjustable. Furthermore, the mode of the 12 position rotary encoder can be switched and the legacy input mode can be activated, which is required for older simulations where the maximum number of inputs per input device is limited.
Shift Lights – The total of 15 aRGB RevLEDs can be configured here. The following modes are possible for the arrangement: Side to Centre, Centre to Side, Left to Right. In addition to the respective timing of activation (as a percentage of the maximum speed), the colour and brightness can also be adjusted here.
Flag lights – There are three aRGB RevLEDs on each side for flag symbols, which can be activated and deactivated and their brightness adjusted here.
Shifter
The shifters have a modular design and can be installed very quickly with just one screw. They are made of carbon fibre-reinforced plastic, which Asetek describes as follows
All paddles and associated mechanics are, like the wheel chassis itself, injection molded with an ultralight and stiff carbon composite material.

Asetek
The magnets used give the paddles the typical strong feel of magnetic paddle shifters, but at the same time the paddles are still comparatively quiet thanks to the damping. Another positive feature is the shape of the paddles, which offer significantly more grip than smooth carbon paddles, for example, thanks to their indentations.
The shift paddles can be easily moved inwards or outwards with a screw (approx. one centimetre per side). The height can also be varied by mounting them upside down.

QR
The Quick Release used by Asetek is probably the most attractive QR on the market today and combines a play-free connection as well as completely wireless data and power transmission to the Forte Button Plate without the need for a USB cable. Steering wheel changes are thus possible in fractions of a second.
Materials
The Forte Button Box has a carbon fibre-reinforced housing with an additional 2 millimetre thick carbon plate at the front. This makes it virtually torsion-resistant and very light. Even if CNC-milled aluminium housings certainly look even more high-quality, the compromise between cost, weight and stability is definitely very well achieved here.
Injection molded Carbon fiber reinforced composite chassis with a forged carbon structure

https://www.asetek.com/simsports/product/forte-button-box/*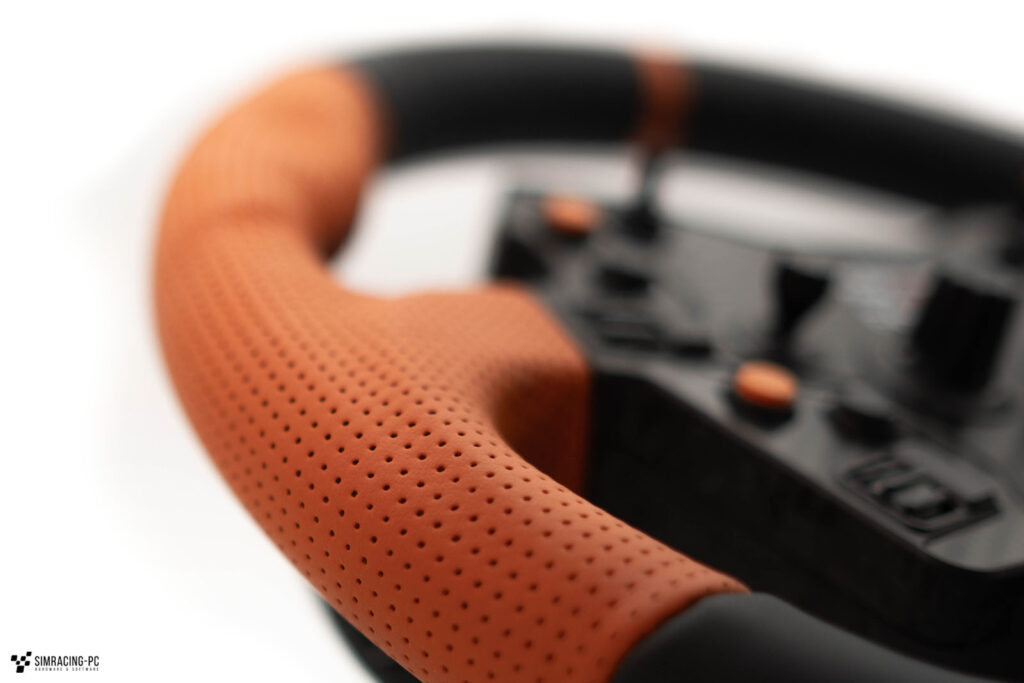 The steering wheel rims are all very well manufactured (hand-stitched) and have additional indentations in the thumb area, making them comfortable to hold. We had the opportunity to test different variants, with the round steering wheel and the open-top steering wheel in particular being favourites among the community. The round steering wheel is ideal for use when drifting or for road and rally cars, while the open-top steering wheel does not cover any dashboard in the game (or as a hardware variant).
When choosing the material, which is usually very subjective, you should bear in mind that the suede rims in particular will no longer look like new after a while. In this case, the rims in the leather version are likely to last much longer.
Asetek also offers a Comfort+ rim made from the material of the same name. According to Asetek, this promises significantly improved durability:
What sets it apart is the groundbreaking Comfort+ material, incorporating 37% recycled fibers. Notably, it's permanently fire-resistant, ensuring safety during extended racing sessions. Easy to maintain, resistant to dirt, and permanently antistatic, this rim is engineered for long-lasting use, boasting an impressive 150,000 Martindale rating. Elevate your sim racing adventure with Comfort+ and relish unbeatable comfort and sustainability.

https://www.asetek.com/simsports/product/round-comfort-rim/*
Video and driving impressions
LEDs
Asetek has fitted a total of 32 programmable 32 aRGB LEDs:
15 aRGB RevLEDs
6 aRGB FlagLEDs
8 Button aRGB LEDs
3 aRGB LEDs for backlit rotary switches
As already described in the Software chapter, the LEDs can be customised and adapted to your own requirements. The 8 LEDs for the buttons have a dual function and also serve as labelling thanks to the stickers attached to them. Although this solution is an interesting idea in principle, in our opinion it does not quite match conventionally illuminated buttons. It is also likely to be very difficult (if not impossible) to obtain customised stickers, as the selection supplied is very large but still limited.
Conclusion
Asetek's concept works! Innovations in simracing have become rare and many new steering wheels only differ in nuances such as the buttons used or the shape. But Asetek is breaking new ground with its button boxes. The innovative connector between the rim and button box frees up valuable space and Asetek can offer significantly more functions on the same surface area than with conventional button plates. Even if it is not possible to fit conventional steering wheel rims and the number of models is therefore initially limited to three shapes (all 330 millimetres in diameter), this compromise is a win in our eyes, not least because of the weight saving.
Otherwise, the Forte Button Box stands out with its wireless power and data transmission via the excellent Asetek QR and the option of adding magnetic input paddles or clutch paddles to the plate. The QR already included in the scope of delivery and the large number of features (LEDs, buttons) ultimately result in a very good price/performance ratio, which definitely makes the Forte Button Box from Asetek a recommendation.
Pros
Modularity and upgrade options
Price/performance ratio button box and rims
Very high quality rims
Features
Configurable aRGB LEDs
Power and data transmission via QR
Shifter
Cons
Compatibility with Asetek wheelbases only
Sticker
Restriction to steering wheel rims from Asetek
5% Asetek Gutscheincode / Coupon code: simracingpc