Currently, hardly a week goes by without at least one simracing manufacturer launching a new product on the market, and steering wheels with integrated screens are also becoming increasingly popular. Since this month, the DELTA EVO from Delta Sim Technologies can also be pre-ordered, which is offered in different versions.
Features
The 295 millimetre steering wheel is equipped with rubber grips with a hardness of 60 A Shore. The 4.3-inch VoCore display and the individually addressable RGB LEDs are controlled via Simhub, where the steering wheel will be natively supported. There are thus no limits to creativity, popular dashboards such as the Lovely SimHub dashboard shown can thus be used without any problems.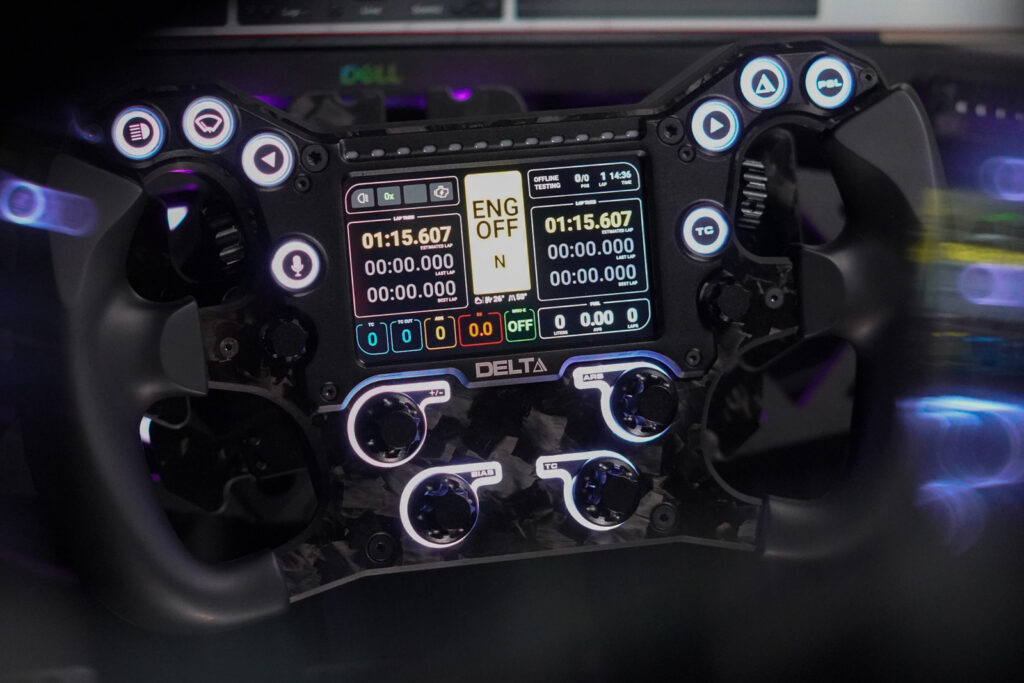 8 x 550gr force tactile switches with polycarbonate caps, each with 4 addressable leds.
Aluminium button guards.
4 front 4-way high detent elma encoders with aluminium knobs, each with 5 addressable leds and polycarbonate illuminated pads
2 high detent elma thumb encoders, with aluminium knobs.
2 x 7-way switches, within easy thumb reach.
High force magnetic shifters, with 4mm forged carbon paddles.
2 x hall sensor clutches (configurable as dual clutch or throttle / brake) with 4mm forged carbon paddles.
4.3″ high resolution screen.
Precision moulded, 60a shore silicone grips
5mm forged carbon front face.
Light weight aluminium rear enclosure.
Custom pcb with dual core processor.
All on wheel bite-point, clutch mode and calibration, no extra apps needed.
On going firmware updates.
High quality polycarbonate stickers.
Directly compatible with asetek systems, no cables necessary.
Standard version includes 30mm, 50mm to 70mm pcb aluminium hub.
Total weight 1300gr, excluding qr's / hubs.
295mm diameter.
Directly compatible with Asetek or with USB connection
As one of the first steering wheels, the DELTA EVO is also offered with the option of operating it directly via a native Asetek QR instead of a USB cable, with which it is directly equipped when selected accordingly. This enables completely wireless operation.
Prices and pre-order
Prices for the DELTA EVO start at around 1100€ without taxes, customs and shipping from the UK. Buyers from Germany have to reckon with approx. 1,500€ depending on the version. The steering wheel can be pre-ordered now, the delivery time is currently given as approx. 6-8 weeks.
Standard – No Clutch: 1.093,95€
Standard – Dual Clutch: 1.182,95€
Asetek QR – No Clutch: 1.211,95€
Asetek QR – Dual Clutch: 1.093,95€