Erazer is organizing the Your Road to Victory simracing event series this year in collaboration with Intel and GetCloserRacing. Simracers can currently qualify for further participation in both offline and online events.
Your Road to Victory
Erazer plans to focus its event series on a different area each year. The first event in 2023 will be held in the simracing sector.
Simulators
The simulators are provided by GetCloserRacing, which uses simracing hardware from Simucube (wheelbase), Simcore (steering wheel) and Racewerk (pedals), among others. The motion rigs are operated in combination with VR headsets to enable time chasing in the offline events.
PC
In order to control the simracing hardware and to have enough FPS available in iRacing, Erazer's in-house computers are used. In the next few weeks, there will be a detailed review of the MEDION® ERAZER® Hunter X30, which is provided by Erazer.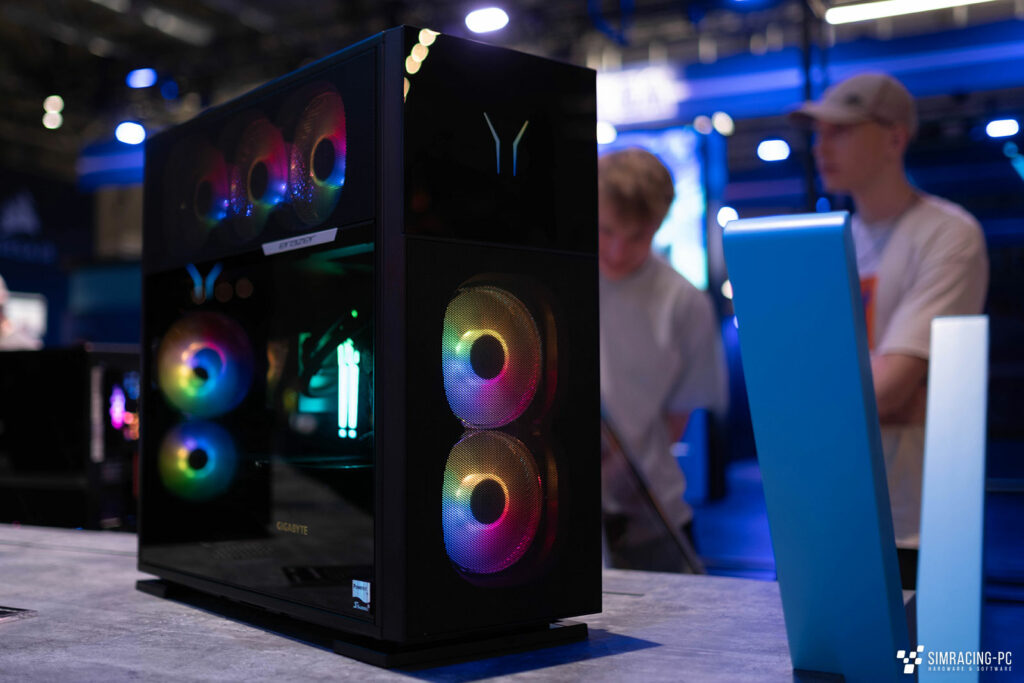 Qualification
Qualification for the further phases of Erazer Your Road to Victory can be achieved in various ways:
Online – iRacing
Erazer will provide an iRacing server until October, where participants can compete for best times with Formula Renault 2.0 at Circuit Park Zandvoort. The fastest laps must be reported via the Erazer Discord (https://discord.gg/erazer), with the four fastest drivers qualifying at the end.
| Rang | Name | Zeit |
| --- | --- | --- |
| 1 | Daniel_Alves | 1:34:278 |
| 2 | RA_Johannes | 1:34:302 |
| 3 | janvdh | 1:34:317 |
| 4 | Philip | 1:34:383 |
Online – Gran Turismo
In addition to the qualification in iRacing, it is also possible to qualify via fast times in Gran Turismo. To do this, times must be achieved on the Autodromo Lago Maggiore with the following vehicles
Alfa Romeo Giulia GTAm '20
Chevrolet Camaro ZL1 1LE Package '18
Chevrolet Corvette C7 ZR1 '19
Ferrari 458 Italia '09
Ferrari F8 Tributo '19
Ford GT '17
Lamborghini Aventador LP-750-4 SV '15
McLaren 650s '14
Mercedes AMG GT Black Series '20
Nissan GT-R '17
Porsche 911 GT3 (997) '09
Porsche 911 GT3 RS (991) '16

You can find the exact terms and conditions here: https://drive.google.com/file/d/1B4a2G4_wn0eeGd28cCR4IYAwFLTyVROD/view
Gamescom
Four simracers already qualified directly for the bootcamp at Gamescom. The drivers Ruben, Tuabe, GAMER-BRANDLEY and Adrian each drove the best time of the day and are therefore qualified.
| Datum | Name | Zeit |
| --- | --- | --- |
| 24.08.2023 | Ruben | 1:01:071 |
| 25.08.2023 | Tuabe | 1:00:451 |
| 26.08.2023 | GAMER-BRANDLEY | 1:00:987 |
| 27.08.2023 | Adrian | 0:59:885 |
Simracing-Expo
At the Simracing Expo, simracers will again have the opportunity to qualify for the Boot Camp. From Saturday (October 14) to Sunday (October 15), drivers can qualify directly on site of the event.
Bootcamp
In the Bootcamp (10. – 12.11.23) a total of 16 drivers fight for the qualification for the Grand Final. Here, the best 8 drivers are determined in three races, with iRacing being used as a simulation.
Grand Final
Erazer Your Road to Victory will conclude with the Grand Final on December 2, 2023, in which a total of eight iRacing drivers will compete for the prestigious prizes. A single sprint race will decide the placings here.
Prizes
The following prizes will be awarded for the events:
Online Qualifier
● 1 x Team T-Shirt
● 1 x Team Caps
● 10 x Meet & Greet beim Grand Final werden unter allen Teilnehmenden verlost
● 1 x ERAZER Hunter X20 werden unter allen Teilnehmenden verlost
● 5 x ERAZER Spectator X10 werden unter allen Teilnehmenden verlost
● 10 x ERAZER Mage X10 werden unter allen Teilnehmenden verlost
Offline Qualifier
1 x Team T-Shirt
1 x Team Caps
10 x Meet & Greet beim Grand Final werden unter allen Teilnehmenden verlost
1 x ERAZER Hunter X20 werden unter allen Teilnehmenden verlost
5 x ERAZER Spectator X10 werden unter allen Teilnehmenden verlost
10 x ERAZER Mage X10 werden unter allen Teilnehmenden verlost
Bootcamp Stage
8 x VIP Team Ticket für das Grand Final
8 x Mini ERAZER SetUp für alle Ausscheidenden
Grand Final
Platz 1
1 x Trophäe
1 x Medaille
1 x Mitgliedschaft im eSport-Team von GetCloser Racing
1 x Fahrt im Rennwagen auf einer Rennstrecke
1 x Simulator
Platz 2
1 x Medaille
1 x Gaming SetUp
Platz 3
1 x Medaille
1 x Gaming SetUp
Plätze 4 bis 8