This year the ADAC Simracing Expo will take place in Germany again. After the Nürburgring in previous years and Nuremberg last year, this year it's off to Dortmund. From October 13 to 15, visitors can once again try out simracing hardware on site, talk to manufacturers and compete in various competitions.
Location and Tickets
The venue this time will be the halls of Messe Dortmund. In Halls 3 and 4, visitors will find the manufacturers' booths and the event stage on a total of 17,000 square meters.
Admission prices are just under 25 euros for a day ticket and 58 euros for the entire weekend. Children up to and including 6 years of age are admitted free of charge.
Day ticket Friday: 24,50€
Day ticket Saturday: 24,50€
Day ticket Sunday: 24,50€
Weekend Ticket: 58,00€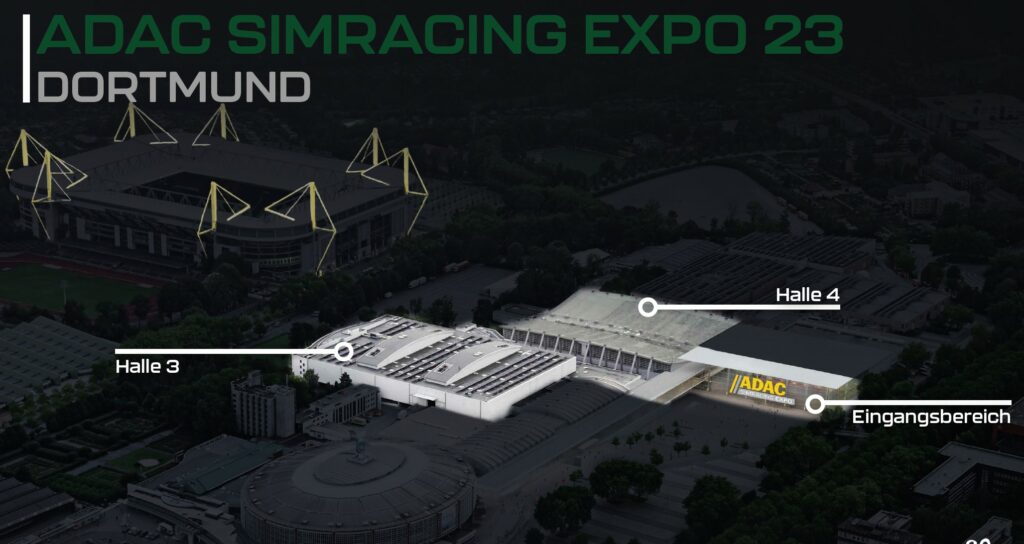 Exhibitors
This year again several manufacturers will use the stage of the Simracing-Expo to present upcoming products and their current range. Many booths are equipped with rigs for this purpose and the motto is: try out hardware yourself instead of just looking at it.
Absolute Motorsports
Acelith SimRacing Design
Actoracer
ADAC
Ascher Racing
Asetek Simsports
Bavarian SimTec
Conspit
DBOX
EFS The Racing Hub
Eraser Medion
GetCloserRacing
GRacing Total Immersion
MECA
ERAZER
MME Simsport
MOZA Racing
NOVUS Racing Simulators
P1 Sim
PROSIMU
PT Actuators
PXN
Race@Home
RaceRoom
Rennwelten
Sabelt Sim Racing
Senseit!
SIIND
Sim Department
Sim Motion
Simboostr
SimGrid
SimRacing Pro
SimRaceShop.de
SIMREP Engineering
TailoredRig
Tomas Enge Sim Racing
TrackTim
Of course you will find relevant pictures and videos from the exhibition here on Simracing-PC.de again. You can see the highlights of the last year here: ADAC SimRacing Expo 2022 – Bilder
Schedule – stage program
For those interested, there will be a stage program with prominent guests again this year. In addition, daily meet & greets with various creators from the field of simracing will take place.
Friday
11:00 – Opening Stage
12:00 – Live Coaching by Rennwelten
13:00 – Stage Panel – TBA
14:00 – Community Trophy Race 1
15:00 – BMW Motorrad Esports
16:00 – Community Trophy Race 2
Saturday
11:00 – Opening Stage
11:30 – Professional Trophy Race 1
13:00 – Tim Heinemann live on Stage with KW Automotive
14:00 – F1 Mania – Content Creation and Streamers
15:00 – SIIND – Sidney Hoffmann, Car Tuning and RWB Porsche
16:00 – Professional Trophy Race 2
Sunday
10:00 – Opening Stage
10:20 – ADAC Digital GT500 Quali Race 1
11:30 – The organisation of Sim Racing
12:30 – ADAC Digital GT500 Quali Race 2
13:30 – Sim Sundays Podcast by Gridfinder