"Since 2008, Trak Racer has been designing and developing high-quality gaming platforms and accessories at the best price". – This is how the Australian manufacturer introduces itself on its website. The introduction is no coincidence: Trak Racer is one of the largest suppliers of aluminium rigs in the world. Reason enough to take a closer look at the currently most affordable aluminium rig in the line-up in today's review: The TR80 LITE Racing Simulator.
Ordering and shipping
Trak Racer currently offers its extensive range through one warehouse in Europe, one in Australia and one in the USA to keep shipping costs as low as possible.
The components tested in this review include the following items:
TR80 LITE RACING SIMULATOR: 421,91€
TRAK RACER GT STYLE FIXED FIBERGLASS SEAT (Seat with Brackets): 332,41€
COCKPIT-MOUNTED SINGLE MONITOR STAND – UP TO 80″ – DISPLAY CENTRE PROFILE 800MM LONG: 153,43€
UNIVERSAL DUAL-LOCK SEAT SLIDER KIT: 29€
TRAK RACER GEN 2 SHIFTER MOUNT AND SIDE CHASSIS SUPPORT WITH TR SUPPORT PLATE: 79€
In addition, there are shipping costs for this selection, which are currently a moderate ~€60 (Germany).
The product tested here was provided by the manufacturer. No influence was exerted on this review at any time.
The Rig
The TR80 LITE is a classic rig made from black anodised 80mm x 40mm aluminium profiles. Trak Racer itself describes the rig as "entry level" and recommends the use of wheelbases up to 10 NM. During the review, however, it quickly became clear that even the Forte Direct Drive Base from Asetek (18 NM) can be operated with high FFB settings without any problems. Even if the rig can't quite keep up with rigs that rely on 120 or even 160 profiles in terms of stability, it is clearly more than just a beginner's rig: It offers a stable base for beginners (and beyond) and at the same time stands out due to its excellent scope of delivery.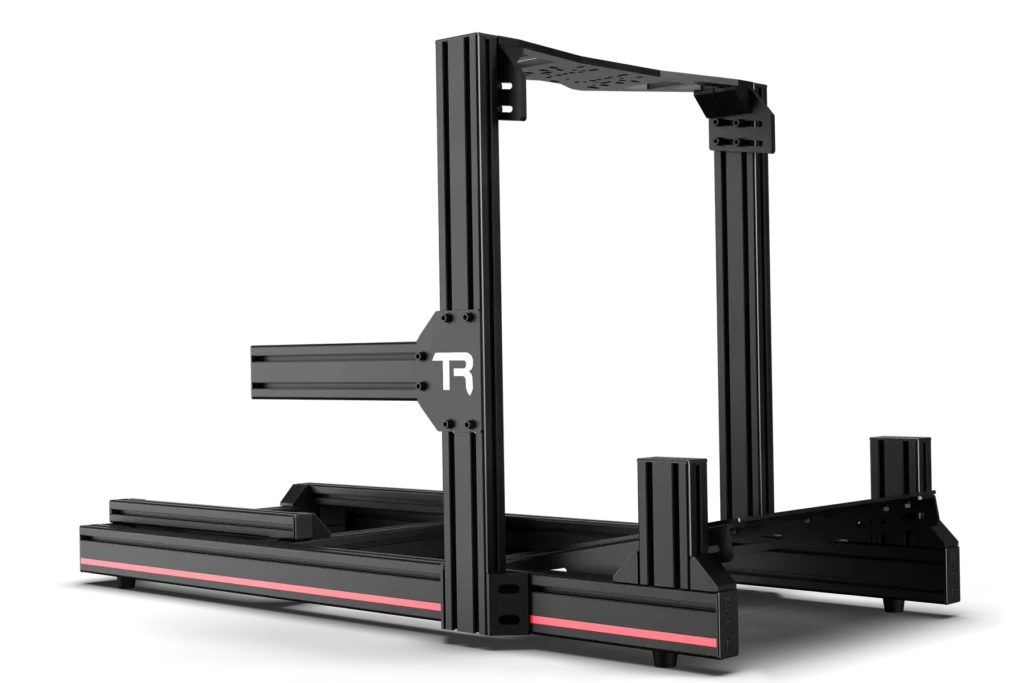 Shipping
Unpacking is the first step before assembly. The components tested here arrived in a total of nine individual packages via UPS. As with Fanatec, it is advisable to register with UPS My Choice in order to be informed in advance about the arriving packages.
The individual packages each contain a specific part of the components needed for the sim rig. Screws, connectors and cover caps are packed in bags, the aluminium profiles are separate and well protected by foil. All in all, the concept worked out and all parts survived the transport undamaged. Another positive aspect is that there were no chips from the cutting process, which is often typical for aluminium profiles.
Scope of delivery
The TR80 LITE clearly stands out when it comes to the scope of delivery, and this is also the biggest difference to a DIY alternative. In addition to the profiles themselves and the corresponding connecting material, you also get the matching tools (in good quality). In addition, caps are included for all profile ends, which give the rig a clean look. In combination with the accessories for cable management, red cover strips and rubber feet, there is not much left to desire.
The following components are included in the scope of delivery:
Wheel Mount – Heavy-duty Wheel Plate (SKU: TR80-WMPLATE)
Pre-Drilled Pedal Plate
BONUS Rubber Feet to protect floors
Set of 10 Cable Ties
Red Coloured Strips
80mm x 40mm Black Anodized Aluminium Chassis
80mm x 40mm Black Anodized Aluminium Wheel Supports
80mm x 40mm Black Anodized Aluminium Shifter Support
All Mounting Screws, Brackets and Fixtures included
Assembly Tool Kit Included
Assembly
The rig can generally be assembled by one person alone. However, for some parts, such as the wheel deck, a second person is very helpful and should always be present in case of doubt.
If you take a first look at the Trak Racer instructions, the professionalism quickly becomes clear. The instructions no longer have anything to do with the early days of DIY RIgs and are now more reminiscent of modern Ikea instructions. This way, even beginners and those with little technical talent can master the assembly without any problems. Appropriately, Trak Racer includes useful tools with which you can assemble the rig without having to open your toolbox at all.
You should plan one or two afternoons for the assembly (without accessories), but with help it can also be done in one day. With the assembly of the seat, the Sirmacing hardware and the monitor mount, you can easily schedule a whole weekend.
The slot nuts with springs used throughout are a practical feature. These can also be inserted into the slots at a later stage and put into position, for example, with the Allen key supplied. If you forget to insert the slot nuts in time for the next step, this can save a lot of time and nerves. Another note concerns the built-in connectors with integrated bars. These have to be broken out depending on the intended use. This does not seem very intuitive at first, but it is no cause for alarm. The procedure suggested in the instructions (the connector is placed on a profile and the bars are broken out by tightening the screw) is completely correct and this step is also done quickly.
The only challenge in assembling the base frame is ultimately to align the profiles as precisely as possible, which applies in particular to the solid pedal plate (~6 mm thick) and the wheelbase mount (~10 mm thick). It is essential to use a measuring rule or other aid for precise alignment. For the assembly of the wheel mount, it is advisable to have a second person to help.
Due to the modular construction, it is possible to change the assembly slightly in some places. Here, for example, the brackets for the aluminium profiles under the seat were mounted on the outside for optical reasons and not on the inside as intended in the instructions.
Compatibility
Trak Racer has provided a large number of pre-drilled holes in both the pedal mount and the wheelbase mount. These allow direct mounting of almost all currently available mainstream hardware. The wheelbase used for this test (Asetek Forte) is one of the few exceptions without additional accessories from Asetek. But Trak Racer has already announced changes to support this directly in the future.
Teak Racer states the following hardware as out-of-the-box compatible:
Wheelbases
Thrustmaster T500, T300, T150, TC-PS, TS-XW, TX, 248, T-GT, T80, TMX and T-GT II
Fanatec CSL, Clubsport, Podium DD1/DD2/DD PRO, CSL DD and GT DD Pro
AccuForce V1/V2
SIMAGIC M10
Moza R9, R16, R21 DD Wheel Bases
Simagic Alpha Mini
Shifter (mit optionalem mount)
Trak Racer Sequential Shifter Pro (Coming Soon)
Fanatec ClubSport Shifter, SQ
Thrustmaster TH8A, RSTSS, TSS+
Prosim PSL Sequential Shifter
Heusinkveld SQ Shifter
Logitech G Shifter
DSD SQ Shifter
Jinx Shifter – additional mount required
Simworx Pro Series – additional mount required
VNM Simulation Sequential Shifter
Quaife PSL Sequential V2, Sequential, and H Pattern – additional mount required
Aiologs SQ Shifter
BJ Sim Racing Shifter 3.0
Frex H Pattern
SIMAGIC Sequential Shifter
Pedals
Trak Racer Loadcell Pro Pedals (Coming Soon)
Fanatec CSL Elite Pedals, ClubSport V1/V2/V3 (including Inverted Pedals)
Thrustmaster T-LCM, T3PA, GT Ed, T3PGT, T3PA PRO add-on and T500, T150 pedals
Heusinkveld Ultimate/Ultimate+, Sprint and Pro
Logitech G29, G920, G923
Meca Cup1-2, Meca Cup1-3, Clutch and Base Plate
VRS DirectForce Pro Pedals
HPP PRX 3P, JBV 2/3 Pedal System
Simagic P2000-S100 Pedal Set
BJ Sim Racing Steel Series, 1000psi Hydraulic
DC Sim Racing DC3
Sim Coaches P1-3
Simtrecs ProPedal GT
Velazquez Engineering PRO+ Hydraulic
Simforge Mark-1
3DRAP Ngasa
Protosimtech PT2
OBP Pro Race V2 Sim Pedal System
Simworx Pro Series
WAVE IMPETUS
Quaife Throttle Pedal and Brake
Cube Controls Hydraulic
Venym Pedals
Moza CRP Pedal set
JCL Hydraulic Pedals
Adjustment options
Due to its modular construction, the rig can be adjusted continuously in basically any direction. However, adjustment without tools is only possible via the seat slider (if equipped).
The pedal bracket can be screwed relatively freely in terms of both distance and angle. Even a rearward inclined mounting is possible in principle.
The wheel deck is adjustable in height (free) and angle (very large margin). In addition, the distance to the seat can also be adjusted here in a range of approx. 10 cm. If this is not enough, the entire mount with the aluminium profiles can be moved further.
So, overall, you are completely free in the positioning of the individual components and so every person should be able to achieve the configuration that suits him or her. The only point of criticism in this area is the fact that for each adjustment
The seat
Trak Racer offers many different seats that are compatible with the TR80 LITE. The offer ranges from the entry-level seat used here (338 € incl. brackets, 299 € without brackets) to seats with racing approval.
The TRAK RACER GT STYLE FIXED FIBERGLASS SEAT used here offers the following features:
High density foam construction.
Material – Ultra-soft cloth
Padding – High Quality Foam
Harness System Ready – Side Mount – M8 Size 29.5mm spacing.
Weight Restrictions: Up to 160kg (352 lbs)
The very light seat cannot quite keep up with (significantly) more expensive models in terms of stability, but it does its job very well in practice. A big plus point of the seat are the removable seat pads, which are held in place with a Velcro fastener. Especially in anticipation of the upcoming summer, this feature is worth every penny.
The seat is mounted via four threads (two on each side) and accordingly requires a bracket, which is best purchased at the time of ordering. The Trak Racer version allows the angle to be adjusted through various holes. For this test, a position slightly tilted backwards was chosen.
The monitor mount
The COCKPIT-MOUNTED SINGLE MONITOR STAND from Trak Racer is used as the monitor mount. This is installed on the side of the mounting of the wheelbase. The VESA mount incl. extension bracket included in the scope of delivery makes the following VESA dimensions (and thus monitors up to 80 inches) compatible:
75mm x 75mm
100mm x 100mm
150mm x 150mm (via included extension bracket)
200mm x 200mm (via included extension bracket)
300mm x 300mm (via included extension bracket)
400mm x 400mm (via included extension bracket)
Note. Larger sizes available with additional mount
The following components are included in the scope of delivery:
Trak Racer thick, carbon steel mounting brackets and fixing screws/nuts
VESA Mounting Plate and fixing screws/nuts and VESA Extension Brackets
Trak Racer 80mm x 40mm Aluminium Frame and fixing screws/nuts
The modular design makes the mount very flexible in positioning the monitor. The monitor can be moved practically freely in height and distance as well as in angle. However, the high degree of flexibility also comes at the price of having to pay very close attention to ensuring that all connections are screwed symmetrically and that the installation is carried out by at least two people, although a third person can be very helpful in case of doubt. The 49-inch Samsung C49RG monitor was used here, which could be screwed directly onto the mounting plate. The approx. 15 kg of the monitor were no problem for the Trak Racer mount. Only additional washers were needed for mounting, as the M4 screws used would otherwise not have been compatible with the bracket.
Add-ons
As a rig made of aluminium profiles, the TR80 Lite can in general be extended in any way. Simple T-slot nuts are required for this. Trak Racer currently offers an enormous range of in-house extensions. This starts with alternative wheel decks and ends with a butt kicker mounts.
A selection of the most popular accessories includes the following items:
Handbrake Mount – Left or Right Side
Flight Sim Control Mounts with 1 Side Support
Swivel Mounted Desk Top
Adjustable Keyboard Tray Upgrade Kit, PC or Control Box Shelf
Caster Wheels Brake & Mounting Brackets, Rubber Feet (Set of 4)
Trak Racer Rubber Mat
Trak Racer Rubber Mat with RGB Lights
5 Speaker Mount
Under Seat Buttkicker Mount
A full list of accessories offered by Trak Racer can be found here:
The large selection of add-ons clearly sets Trak Racer apart from most of the competition. Such an extensive range is usually only available from several different shops, but here you get everything from a single source.
DIY-Project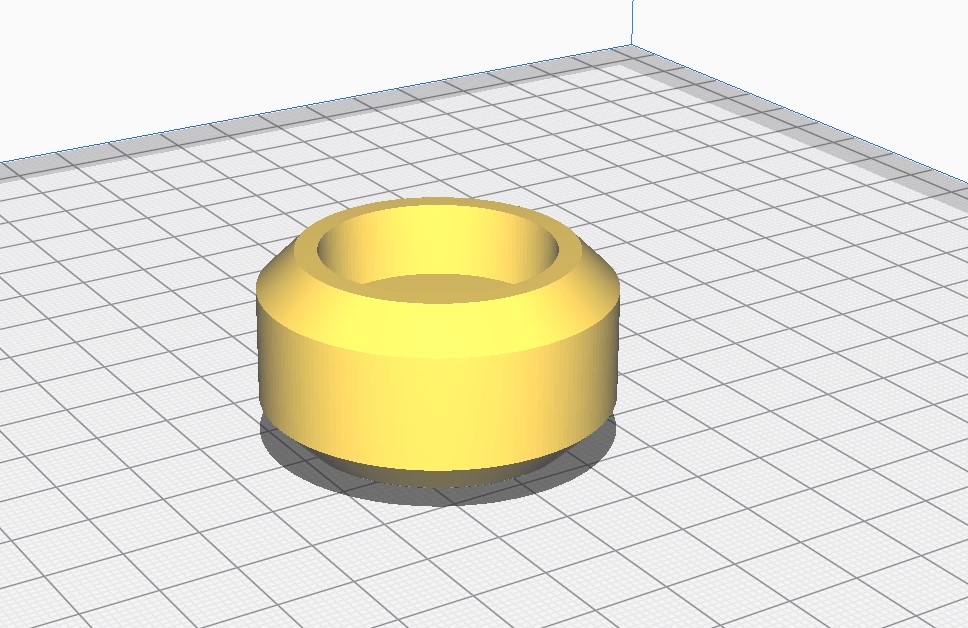 As we all know, simracing and DIY projects go hand in hand. Reason enough to publish a small DIY project for the TR80 LITE as well. The additional TPU feet noticeably dampen the vibrations of the rig during operation and also raise it by about one centimetre. The project can be downloaded free of charge from Thingiverse.
Conclusion
The TR80 LITE from Trak Racer is a very good rig based on a combination of aluminium profiles and custom mounts for pedals and wheelbase. The set arrives well packaged and assembly can begin immediately thanks to the included tools. Trak Racer offers the rig with a very extensive scope of delivery, which, in addition to feet, also includes trim strips and caps for all profile ends. Other plus points are the compatibility with virtually all simracing hardware available on the market and the many add-ons available directly from the manufacturer.
If the buyer does not have a problem with the long assembly time typical of an aluminium rig, the TR 80 Lite in the price range up to 500€ (without monitor holder and seat) is an excellent overall package that is priced just above a DIY rig and at the same time already includes a lot of accessories in the scope of delivery. This makes it a clear buy recommendation.
Pros
Almost unlimited adjustability…
Price/performance ratio
Scope of delivery
Compatibility
A wide range of add-ons available
Well presented manual
Cons
…but only with tools
Long assembly time