TURN Racing summarizes its own philosophy with the following words on their website:
MAKING HIGH END MORE AFFORDABLE

We want to cut the marketing buzz words and deliver what actually matters. Which is quality, functionality, price & asthetic.

Zach von Turn Racing
The goal is to address a broader mass of sim racers with the new product line after the previously offered rather expensive high-end steering wheels (example: Turn R8 Wheel Review). This is supposed to be realized by a significantly lower price in comparison with a still very good quality.
Order and shipping
The products from TURN Racing can be purchased via the manufacturer's webshop as well as via various distributors. The prices of the products presented here are composed as follows at the time of the review:
BP2 Button Plate: 321.93€
R305 Sim Racing Wheel: 144.72€
R320 Sim Racing Wheel: 144.72€
Optional: Sticker Sheets für jeweils 8.86€
In addition to the prices, there are customs duties and taxes due to shipping from the USA, as well as shipping costs itself.
As an alternative to Turn's website, the products can also be purchased from RaceAnywhere (For the UK/EU region) and HRS (Australia).
The products shown in this review were provided by TURN Racing free of charge, but of course no influence was exerted at any time and no conditions were imposed.
Scope of delivery
The scope of delivery of the Button Plate BP2 is quite generous. Not only are the connection cable designed as a spiral cable and a rig-mountable bracket included in the package, but you also get two sets of shifter paddles, an sticker sheet for the button plate and additional stickers as well as six M5 screws with matching nuts.
What's in the box:
BP2 (With aluminum magnetic shifters)
Button sticker sheet
6 x M5 x 40mm flat head screws
6 x M5 nylon lock-nuts with flange
Custom coiled RJ45 to USB-A Male cable
6 foot USB extension cable with Mounting Bracket
Flat formula shifter paddles (For flat 300mm-320mm steering wheels)
10mm Offset paddles (For dished 320mm-350mm steering wheels)
Compatibility
Due to its compact design, the Button Plate is compatible with a wide range of steering wheel rims in addition to the two in-house rims. Suitable models include well-known classics from OMP and Sparco as well as, for example, the popular Podium R300 and Podium 911 GT3 Cup rims from Fanatec.
From the software side, the button plate is currently to be used exclusively with the PC. There it is recognized immediately without installation and can be used in all common simulations without any problems.
Range of functions – BP2
Function keys
The BP2 Turn Button Plate features the following function keys:
6 pushbuttons with a very nice pressure point, which is much more defined than for example the steering wheels from Fanatec's ClubSport series.
2 encoders with push function. These have a pleasant activation force and are equipped with a grippy cap made of aluminum.
2 7-in-1 switches as known especially from Fanatec for years. (left, right, up, down, rotation right and left, press). These are especially interesting for ingame menus and have thus become almost indispensable. The switches, which are also made of aluminum, can be operated very comfortably.
In total, you have 26 different function keys, which should be sufficient for most applications.
Shifter
At the back, the button plate has two pre-mounted magnetic shifters, which have a pleasant activation feel. They are comparable to the well-known shifters from Ascher Racing in this respect and also in terms of volume. The paddles, which are installed as standard, are made entirely of aluminum, just like the shifter housing, and are kept in black.
Two additional paddles with an offset of 10 millimeters are optionally included. These can be used for cupped steering wheel rims with a larger diameter. The engraved markings on the paddles, which can be adjusted laterally in a range of around two centimeters, are also nice-to-have.
Materials
Turn Racing has made sure that everything you come into contact with as a user of the BP2 is of very high quality and flawlessly manufactured. This applies both to the shifters and especially to the good buttons.
The injection-molded plastic housing is also surprisingly rigid and has a very good-looking surface. Thanks to the holes (without threads) for mounting the rim and QR, there is no direct load on the button plate during steering movements. Overall, there was no negatively noticeable flex when pressing the buttons or the shifters in our review. Only a minimal torsion can be triggered with an (unnaturally) high pressure on the outermost pushbuttons until far after the activation point, but this is not practically relevant. On the other hand, the exceptionally low weight due to the construction is an advantage.
Misc
The Button Plate is connected to the computer via the included spiral cable. The port, which is embedded in the back, extends about one centimeter out of the case. Depending on the size of the Quick Release used, it is necessary to use a 10 millimeter wide spacer, which is not the case when using Simucube's QR.

TURN specifies a required space of around 15 centimeters between the back of the button plate and the wheel base, which is supposed to be reduced a bit more in the future with a modified USB cable with a shortened strain relief.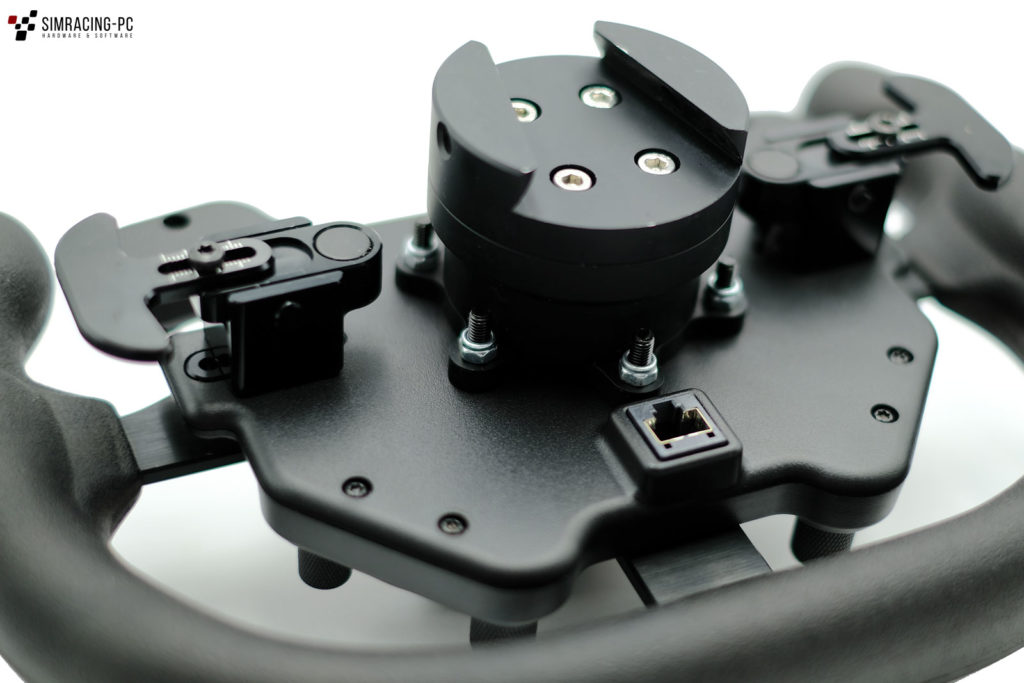 Turn R305 / R320 Racing Wheel
Even though the button plates take up a large part of this review, the two rims are the real stars of the lineup. They are excellently crafted and are made of black anodized aluminum and rubber grips with a hardness of 50A Shore.
Compared to the rubber grips of the McLaren Wheel from Fanatec, they are significantly softer, thus fit better into your hands and can also be used without gloves easily due to the slightly roughened structure. Especially on very warm summer days, the material offers significant advantages compared to normal leather grips, for example. In addition, there is no need for time-consuming maintenance as is necessary for grips made of Alcantara or leather.
The two steering wheel rims differ mainly in their diameter, which gives them their names, and in a slight cupping of the larger model of around one centimeter.
Due to the slim design, the two steering wheel rims are at the same time comparatively light and compatible with many different button plates from other manufacturers.
Technische Daten
| | Turn R305 | Turn R320 |
| --- | --- | --- |
| Diameter | 305mm | 320mm |
| Dish | 0mm | 10mm |
| Spoke Color/ Cover Plate Color | Black Anodized Aluminum | Black Anodized Aluminum |
| Grip Section | 37.5mm Thick | 38.5mm Thick |
| Rubber Color | Textured Polyurethane Black – Shore 50A | Textured Polyurethane Black – Shore 50A |
| Weight | 542g | 600g |
Driving impressions
Conclusion – TURN BP2 Button Plate
With the TURN BP2 Button Plate, the TURN racing has successfully managed the balancing act between the usual high quality and a significant price reduction at the same time. The function keys are very convincing and the scope of delivery is also excellent. Only the built-in RJ45 port clouds the very positive overall impression a bit, but this is more than compensated for by the Button Plate's many positive aspects. Overall, it is a clear buy recommendation!
Pros
Plug & Play
Very good processing
Scope of delivery
Function keys
Spiral cable and extension
Price/performance ratio
Sticker set
Cons
RJ45 Connector
(Availability within the EU)
Conclusion – TURN R305 / R320 Racing Wheel
The two steering wheel rims can be recommended without reservation. The build quality is just as good as the practical use and the price. Currently, there are hardly any comparable steering wheel rims on the market, especially the soft rubber grips are really well implemented.
Pros
Very good processing
Low maintenance soft rubber grips
Price/performance ratio
(Optional stickers)