Derzeit vergeht kaum eine Woche, in der nicht mindestens ein Simracing-Hersteller ein neues Produkt auf den Markt bringt, auch Lenkräder mit integrierten Bildschirmen werden immer beliebter. Seit diesem Monat kann nun auch das DELTA EVO von Delta Sim Technologies vorbestellt werden, das in verschiedenen Ausführungen angeboten wird.
Features
Das 295 Millimeter große Lenkrad ist mit Gummigriffen mit einer Härte von 60 A Shore ausgestattet. Die Ansteuerung des 4,3 Zoll großen VoCore-Displays sowie der einzeln adressierbaren RGB-LEDs erfolgt über Simhub, wo das Lenkrad nativ unterstützt werden wird. Der Kreativität sind somit keine Grenzen gesetzt, beliebte Dashboards wie das gezeigte Lovely SimHub Dashboard sind somit problemlos nutzbar.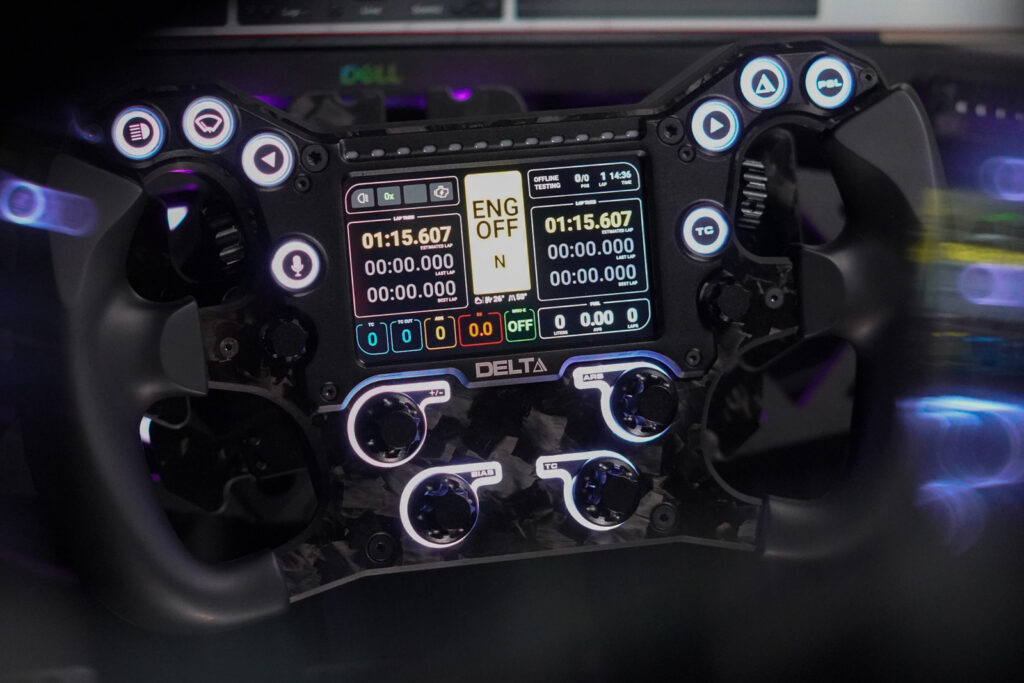 8 x 550gr force tactile switches with polycarbonate caps, each with 4 addressable leds.
Aluminium button guards.
4 front 4-way high detent elma encoders with aluminium knobs, each with 5 addressable leds and polycarbonate illuminated pads
2 high detent elma thumb encoders, with aluminium knobs.
2 x 7-way switches, within easy thumb reach.
High force magnetic shifters, with 4mm forged carbon paddles.
2 x hall sensor clutches (configurable as dual clutch or throttle / brake) with 4mm forged carbon paddles.
4.3″ high resolution screen.
Precision moulded, 60a shore silicone grips
5mm forged carbon front face.
Light weight aluminium rear enclosure.
Custom pcb with dual core processor.
All on wheel bite-point, clutch mode and calibration, no extra apps needed.
On going firmware updates.
High quality polycarbonate stickers.
Directly compatible with asetek systems, no cables necessary.
Standard version includes 30mm, 50mm to 70mm pcb aluminium hub.
Total weight 1300gr, excluding qr's / hubs.
295mm diameter.
Direkt kompatibel zu Asetek oder mit USB-Verbindung
Als eines der ersten Lenkräder wird das DELTA EVO auch mit der Option angeboten, es statt über ein USB-Kabel direkt über einen nativen Asetek-QR zu betreiben, mit dem es bei entsprechender Auswahl direkt ausgestattet ist. Damit ist ein komplett kabelloser Betrieb möglich.
Preise und Bestellung
Die Preise für den DELTA EVO beginnen bei ca. 1100€ ohne Steuern, Zoll und Versand aus Großbritannien. Käufer aus Deutschland müssen je nach Ausführung mit ca. 1.500€ rechnen. Das Lenkrad kann ab sofort vorbestellt werden, die Lieferzeit wird derzeit mit ca. 6-8 Wochen angegeben.
Standard – No Clutch: 1.093,95€
Standard – Dual Clutch: 1.182,95€
Asetek QR – No Clutch: 1.211,95€
Asetek QR – Dual Clutch: 1.093,95€