Scawen Roberts, einer der drei Haupt-Entwickler von Live For Speed hat überraschend in einem Foren-Beitrag (Link) den bald verfügbaren Mod-Support für Fahrzeuge angekündigt.
Mit dieser Ankündigung dürfte die seit 2003 erhältliche Simulation noch einmal einen kleinen Aufschwung erleben, erste Reaktionen aus der durchaus noch aktiven Community sind fast durchwegs positiv.
Wer LFS als Demo ausprobieren möchte kann dies hier tun: https://www.lfs.net/downloads
Modding mit Einschränkungen
Zunächst war es der Plan der Entwickler ausschließlich VOB-Mods zu ermöglichen, also die Bearbeitung der Außenhüllen der Fahrzeuge. Da dies aber als unzureichend eingestuft wurde, hat das Entwicklerteam den LFS Editor – Modeller and Vehicle editor to be installed separately – ins Leben gerufen, welcher bald zum öffentlichen Download verfügbar sein wird. Das Vorgehen ist dabei das Folgende:
To make a mod you can build a model (3D mesh) directly in the LFS modeller or start by importing one from another program, e.g. Blender, then make adjustments and apply texture maps within the LFS modeller. To create a driveable vehicle with your model, you could either start from scratch with a new vehicle or choose an existing car as a starting point. Adjust wheel positions, mass, suspension, engine and so on. Test the mod in your public version of LFS then export and upload it to our website. Reviewers will check it follows the rules and approve / reject / request changes. When approved, the mod can be downloaded in LFS and used online.


Scawen, Developer LFS
Zu den Einschränkungen des Moddings zählen die folgenden Punkte:
Das Mods-System ist nur für Nutzer mit S3 Lizenz verfügbar.
Es werden keine echten Fahrzeugnamen oder Logos zugelassen, es sei denn, die Erlaubnis wird während des Einreichungsprozesses nachgewiesen.
Es werden keine aus anderen Spielen konvertierten Meshes zugelassen, es sei denn, die Erlaubnis wird während des Einreichungsprozesses nachgewiesen.
Es wird Beschränkungen geben (z.B. Anzahl der Dreiecke des Models und Größe der Texturen), damit die Mods schnell heruntergeladen werden können.
Erste Fahrzeuge verfügbar
Währenddessen sind die ersten gemoddeten Fahrzeuge zum Download auf der offiziellen Seite von LFS unter folgendem Link verfügbar:
https://www.lfs.net/files/vehmods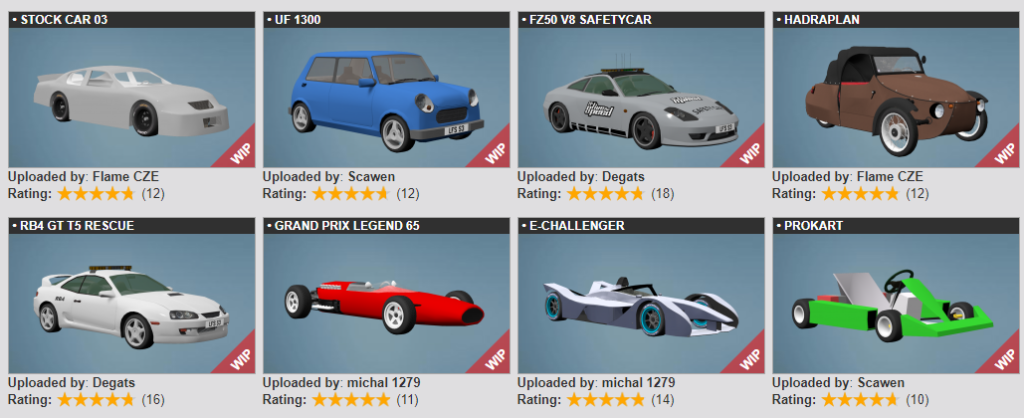 Umfangreiche Tutorial-Serie auf Youtube verfügbar
Zusätzlich wurden bereits einige Youtube-Videos hochgeladen, die als Tutorials dienen. Diese Videoreihe wird in Zukunft weiter ausgebaut: